Complete HIPAA Privacy & Security Software Suite with Maximum Benefits




Manage 6 critical areas inside a highly secure, cloud based central repository.  The only solution of its kind.


The quicker you get compliant the quicker your business is locked down from threats internal and external.

Your customers are the backbone of your business.  Maintaining compliance insures their sensitive data is safe.
Everything Needed to Protect Your Business in One Place
Follow a simple step-by-step system to get HIPAA Compliant then easily maintain
Security and Privacy Management

Centralized privacy and security management in one solution. SIMBUS360 provides users with over 25 tools designed to manage all areas of compliance.

Policies and Procedures

SIMBUS360 comes with a full set of policies and procedures that can be customized to your facility. Edit each policy and procedure and save and attest to build a history.

Complete Risk Management

SIMBUS comes with fully automated risk assessments and evaluations.  Generate instant assessment reports with findings, recommendations and an automated corrective action plan and mitigation section.
Training and Awareness + Employee Oversight


SIMBUS comes with a library of privacy and training courses. Users can take courses, conduct tests and get certified. Results are sent to the administrator for review.

Vendor Management

SIMBUS Tracker is our vendor management platform. Consolidate all your vendor docs in one simple-to-use platform. Push assessments, documents, and tasks.

Audit and Breach Management

Easily manage audits and breaches through the SIMBUS Dashboard.  Setup an audit or breach then assign tasks, store documents and manage mitigation.
Information Security & Privacy Management for the Medical Industry
SIMBUS Complete HIPAA Privacy and Security Management
Includes Policies, Procedures, Forms, Training & Awareness, Risk Management, Vendor Management, Breach Management, and More!
Built for any size organization
SIMBUS is a complete HIPAA privacy and security management software suite that is designed to help any size facility get and maintain compliance quickly and affordably. It's designed to meet the compliance needs of the smallest to the largest business in any industry.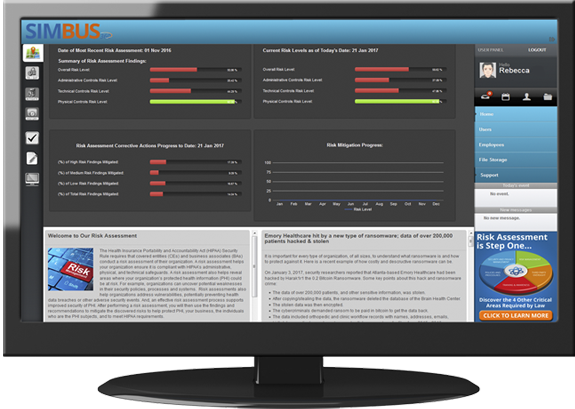 Complete HIPAA Compliance Software Solution
Don't need the entire 360 HIPAA Privacy & Security Solution?
SIMBUS Components can be purchased as stand-alone solutions
Policies, Procedures, Risk Management, Vendor Management, Training and Awareness