The Worlds Most Complete
HIPAA Compliance Management
Solution
Policies & Procedures
Risk Management
Vendor Management
Training & Awareness
Audit / Breach Management


A New Day in Privacy & Security Management
HIPAA Compliance
Re-imagined



PROTECT YOUR BUSINESS
PROTECT YOUR PATIENTS
A breach can destroy your business.
Get compliant today.

A Complete Suite of HIPAA Compliance
Privacy & Security Tools
In One Convenient Platform
Includes Policies, Procedures, Forms, Training, Assessments, Vendor Management, Audit and Breach Management.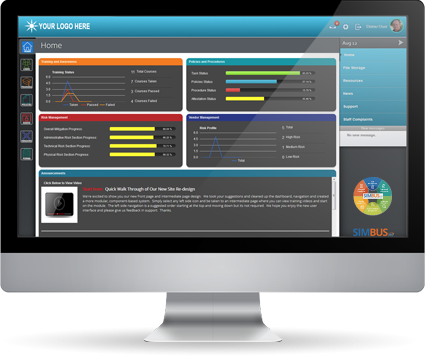 HIPAA compliance software built for any size organization
A a complete HIPAA compliance privacy and security management software that is designed to help any size facility get and maintain compliance quickly and affordably. It's designed to meet the HIPAA compliance needs of the smallest covered entity or business associate to the largest Health Care or Insurance Organization.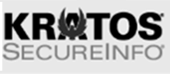 Use our automated, highly condensed Risk Assessment to immediately generate a full report with findings and recommendations.  Use the mitigation tool to work through corrective actions and show progress.  Print a detailed report.

Our Policies and Procedures are unmatched.  Just 19 of each with nothing left out.  All content can be customized to your facility and pushed to staff for attestation.  Have your own content?  Use our tool to add your own custom content.

Our vendor management tool helps manage the entire relationship between you and your subcontractors. Push assessments, agreements, training, tasks and whatever else is needed to maintain the relationship.
We supply an Audit and Breach management tool that tracks and manages Audits and Breaches that occur in the company.  Simply setup an Audit or Breach then assign tasks, organize documents, set goals and print reports.

Beyond Training and Awareness, our tool comes with Asset Management, a whistle blower feature and the ability to assign and track custom content created by the administrator.  Tasks can be scheduled to re-occur yearly.

Use our library of training and awareness courses to get employees trained quickly.  Users take courses, complete a quiz and the results are sent to the admin.  Need to add your own training?  Use our engine to create custom courses.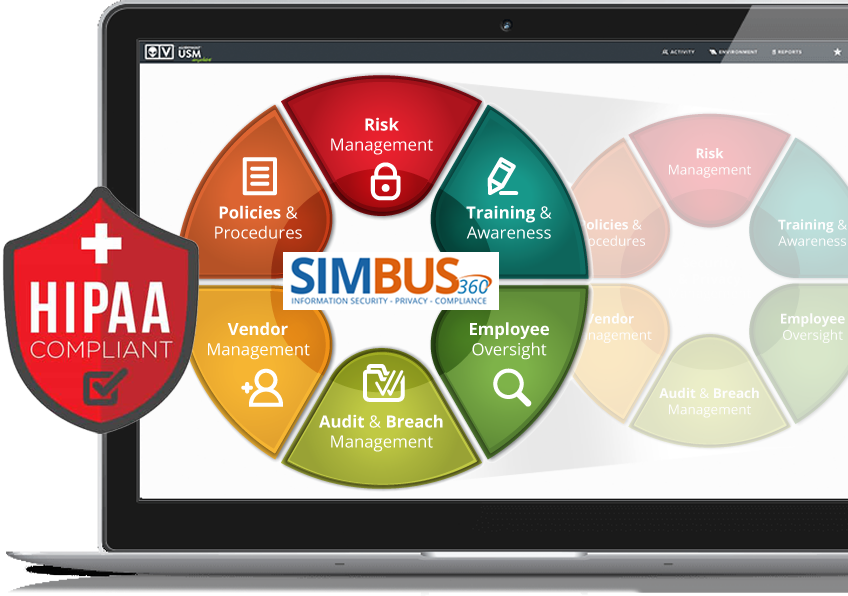 Saves Valuable Time

SIMBUS saves time by having all needed compliance tools in one convenient location.
Saves Money

SIMBUS is complete yet very affordable. Easily manage monthly payments.
Helps Eliminate Risk

By using SIMBUS, you can drastically reduce your risk for an Audit or Breach.
Helps Avoid Audits

By maintaining compliance, SIMBUS not only helps avoid audits it helps you pass one.
Protects Your Clients

Bottom line, SIMBUS is good for your business and insures you protect critical PHI.
Helps Avoid Breaches

By getting and maintaining compliance, SIMBUS will help avoid costly breaches.
Smarter Employees

The training in SIMBUS will keep employees educated and up to date on HIPAA.
Tracks Vendors

CEs are now responsible for managing Vendors. SIMBUS takes care of that process.
Centralizes Compliance

No other program manages all areas of HIPAA compliance in one easy solution.
Much Much More

There's too many features to list. Give SIMBUS a try. It's guaranteed for 30 days.
Protect Your Business, Your Clients, Your Reputation
The Best of the Market
SIMBUS is the simplest, easiest HIPAA compliance software solution
available. It's used by all types of organizations worldwide.
SIMBUS is Your Trusted Advisor for Cyber Liability Insurance
SIMBUS 360 Complete
HIPAA Compliance Software
SIMBUS Has Other Popular Solutions
Our main components can be used separately
Request a Free Private Demo Today!