All 6 Areas of HIPAA Compliance — One Simple HIPAA Compliance Software Solution
The Complete HIPAA Privacy and Security Management Tool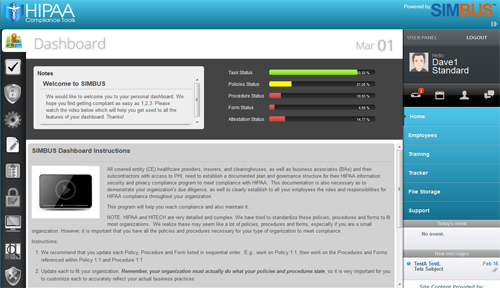 Security and Privacy Management in One Convenient Location
Custom Dashboard built to work on all devices
Add employees, Vendors and send agreements
Manage training, Audits, Breaches, Deadlines
Attest to Policies, Procedures forms, store files
SIMBUS HIPAA compliance software comes with over 25 tools designed to keep your company safe and even more, protect your clients personal information.
Customizable Policies, Procedures, Forms and Tasks
Customize all content using WYSIWYG Editor
Print needed documents in Word or PDF Format
Assign employees specific policies and procedures
Attest to polices and procedures & record history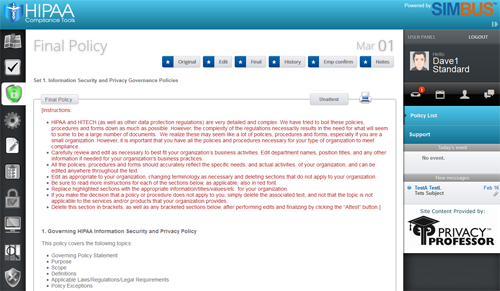 Secure your office and protect your clients the smarter way. Manage all 6 areas of HIPAA Security and Privacy Compliance with less hassle. Avoid costly Audits, Breaches and free up valuable resources.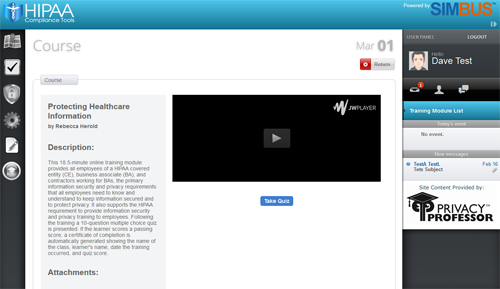 HIPAA Security and Privacy Training with Tests and Certifications
Assign employees specific courses and tests
Set required pass/fail percentage for each course
Add your own training courses within the system
Print and review a full report of tests and completion
PROTECT YOUR CLIENTS, YOUR BUSINESS AND YOUR REPUTATION
HIPAA Compliance Evaluations, Risk Assessments, Gap Analysis
HIPAA Compliance Risk Level Evaluation included
Get a full report with findings and recommendations
Full online Risk Assessment with Instant reports
Take multiple concurrent assessments at once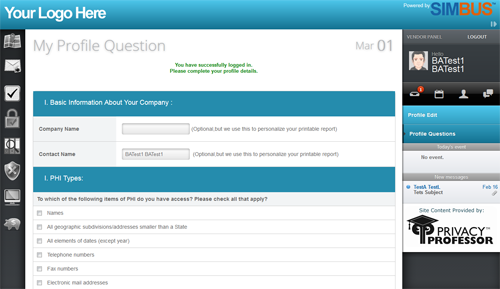 SIMBUS360 HIPAA Compliance Insurance & Healthcare HIPAA Compliance Software
Complete 3rd Party HIPAA Vendor Management Software
Custom Dashboard built to manage all vendors
Add Vendors individually or upload up to 10,000
Manage all forms and agreements inside platform
Get HIPAA risk level scores from all vendors added
Full file repository to store important documents
Get SIMBUS360 HIPAA Compliance Software Today
Expert Client Support Within SIMBUS Included
Internal messaging system inside for quick response
Complete Zendesk Support portal with Knowledge base
Available consulting time blocks for serious questions
Live Chat availability coming on higher level accounts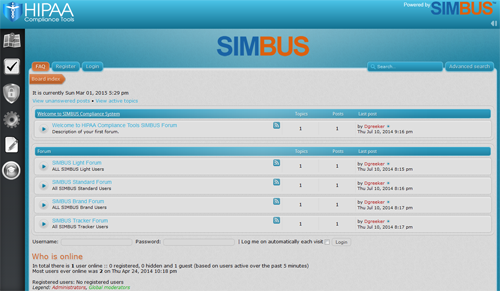 Join the hundreds and soon to be thousands who are on a path to HIPAA compliance!
Get to know us with a demo
Sometimes a relationship needs a little extra to help it grow. Tell us a few things about yourself and we'll contact you for a private HIPAA compliance software demo.
[gravityform id="9″ title="false" description="false" ajax="false"]