HIPAA certification and training goals are best accomplished with engaging activities.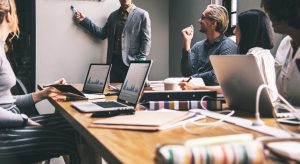 Any compliance expert will tell you, employee training works best when it's engaging. With HIPAA training and HIPAA certification initiatives taking up so much of a given health care office workforce's time, it's critical that leadership finds ways to make the education enjoyable. 
One of the best ways to keep attitudes around coursework positive is to take advantage of HIPAA training and awareness online. Particularly as younger generations account for a larger percentage of the workforce, it's important to meet employees where they are. And for a great number of them, where they are is online. So many fantastic options for online training are out there; it's even possible to complete HIPAA certification online.
While there are several ideas for how to keeping HIPAA training certification engaging, several rise to the top of the pile in my mind:
Start at the beginning. Give your training sessions a fun title when you add the meeting to the calendar. Rather than "HIPAA Training and Awareness," try something like "Get Your HIPAA Training On" or "Living Your Best HIPAA Life." (SOURCE: Impart)
Reinforce learning through fun. One idea I love is to ask participants to rewrite an oldies song with lyrics that encapsulate the HIPAA training concepts. (SOURCE: Lunch Rush by ezCater)
And, of course, adding a reward never hurts. Consider incentives like additional PTO, or even a paid-for lunch, dessert or coffee bar.
HIPAA training for employees doesn't have to be boring. To download resources or talk with a consultant about how to boost engagement among your trainees, give SIMBUS360 a shout. We look forward to helping you make the most of your HIPAA training and awareness time.