All 5 Areas of Compliance — One Simple Solution
The Complete Privacy and Security Management Tool
Choose your plan
Hover over items below to see a description.

Number of Users

SIMBUS is priced based on the number of Users. Please select the number of Users and add to cart. Keep in mind Users is total users which can include admins and employees.

Number of Vendors

SIMBUS is priced based on the number of Employees but it also comes with the ability to manage Vendors. If you need to manage additional Vendors you can request it through support.

Security & Privacy Mgmt.

SIMBUS comes with a stunning dashboard which is intuitive and easy to navigate. Compliance is almost fun when you use SIMBUS360. Manage all areas of compliance through your private dashboard. Add employees and assign training, manage vendors and store files.

Policies & Procedures

All policies and procedures are customizable using our built in WYSIWYG Editor. Once complete, hit save and your customized policy or procedure becomes the default policy for your facility. Need to see the original? No problem. Simply click the original tab to see the original. Print finalized version in Word or PDF. All policies and procedures are custom made by privacy expert Rebecca Herold.

Vendor Management

Our Vendor Management Tool is unmatched. Sold originally as a standalone product, our vendor management tool helps manage the entire relationship between you and your subcontractors. Push assessments, agreements, training, tasks and whatever else is needed to maintain the relationship. View the vendor timeline to see a visual representation of where you are with each vendor. Whats been sent, what is due, what the risk level is and other critical information.

Training & Awareness

Our training portal is cutting edge. Add employees to the system, send a welcome email and each employee receives a private dashboard where they manage compliance. Assign courses, policies and procedures, set pass fail rates and even add your own training. Passing scores generate a certificate of completion and all history for each employee can be monitored by the admin. Reports can be generated showing overall scores, consensus scores and which questions each employees missed.

Risk Management

SIMBUS360 comes with a short form Risk Level Evaluation. Use this 32 question assessment to see where you're at with compliance. Each answer comes with findings and recommendations and is printable in a graphical PDF report for review. Need a full Risk Assessment or Gap Analysis? For an additional fee you can add our full online RA/GA to your dashboard and take it as many times as needed. Our new RA/GA will change privacy and security as we know it.

30 Day Money Back Guarantee

There's absolutely no risk. First try SIMBUS360 free for 14 days then use it for another 16 days and if you're not fully satisfied, simply let us know why and we'll refund 100% of your money.
3-10 Users

Up to 10 Vendors
11-25 Users

Up to 25 Vendors
26-50 Users

Up to 50 Vendors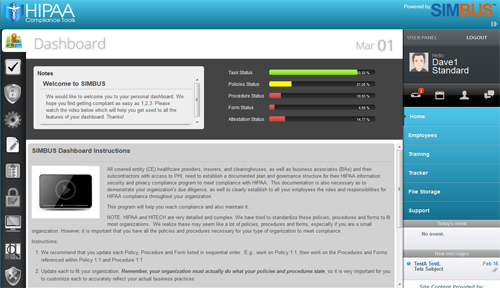 Security and Privacy Management in One Convenient Location
Custom Dashboard built to work on all devices
Add employees, Vendors and send agreements
Manage training, Audits, Breaches, Deadlines
Attest to Policies, Procedures forms, store files
SIMBUS comes with over 25 compliance tools designed to keep your company safe and even more, protect your clients personal information.
Customizable Policies, Procedures, Forms and Tasks
Customize all content using WYSIWYG Editor
Print needed documents in Word or PDF Format
Assign employees specific policies and procedures
Attest to polices and procedures & record history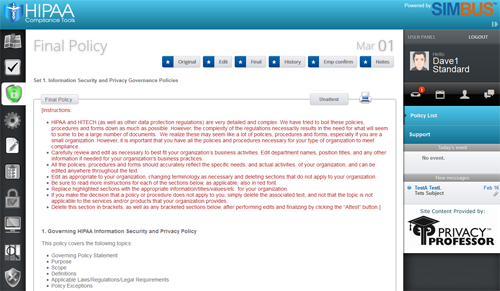 Secure your office and protect your clients the smarter way. Manage all 5 areas of Security and Privacy Compliance with less hassle. Avoid costly Audits, Breaches and free up valuable resources.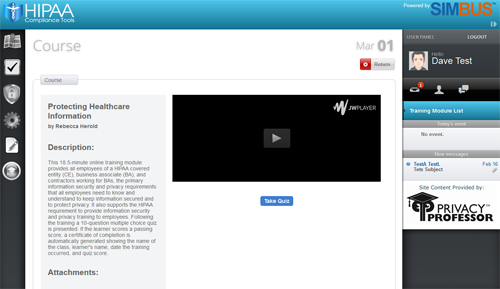 Security and Privacy Training with Tests and Certifications
Assign employees specific courses and tests
Set required pass/fail percentage for each course
Add your own training courses within the system
Print and review a full report of tests and completion
PROTECT YOUR CLIENTS, YOUR BUSINESS AND YOUR REPUTATION
HIPAA Compliance Evaluations, Risk Assessments, Gap Analysis
HIPAA Compliance Risk Level Evaluation included
Get a full report with findings and recommendations
Coming Soon! Full online Risk Assessment with reports
Coming Soon! Full Gap Analysis with results & reports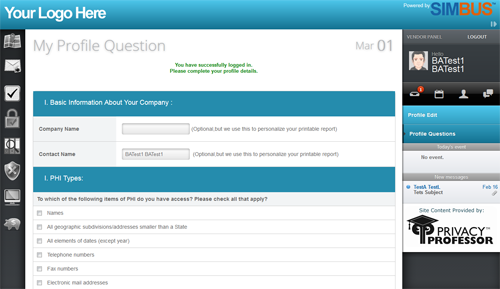 SIMBUS360 for the Health and Insurance Industries
Complete 3rd Party Vendor Management Software
Custom Dashboard built to manage all vendors
Add Vendors individually or upload up to 10,000
Manage all forms and agreements inside platform
Get HIPAA risk level scores from all vendors added
Full file repository to store important documents
Expert Client Support Within SIMBUS Included
Internal messaging system inside for quick response
Complete Zendesk Support portal with Knowledge base
Available consulting time blocks for serious questions
Live Chat availability coming on higher level accounts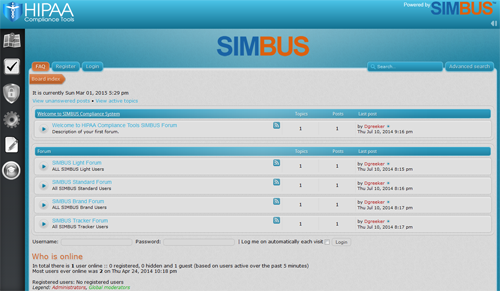 Join the hundreds and soon to be thousands who are on a path to compliance!
Get to know us with a demo
Sometimes a relationship needs a little extra to help it grow. Tell us a few things about yourself and we'll contact you for a private demo.